Vision
" To be one of the leading manufacturers of Natural Rubber Thread in the world, with constant innovation and a professional team ready to deliver quality products and services around the world. "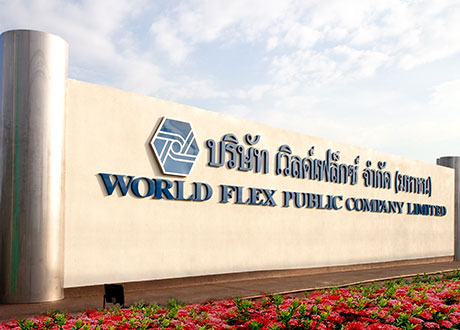 Our Vision
"To be one of the leading manufacturers of Natural Rubber Thread in the world, with constant innovation and a professional team ready to deliver quality products and services around the world."
Our Mission
Determined to be the first Natural Rubber Thread producer. World Flex it's a world-class company that serves the needs of customers in various types of industries with an experienced professional team that is focused on delivering maximum satisfaction to the customers.
Our company gives priority to our management, leading the organization to continuous growth every year and creating good returns for shareholders, employees and all stakeholders. Furthermore we focus on an environmentally friendly and socially responsible production process.
Our Purpose
To manufacture Natural Rubber Thread from Natural Latex and to serve the needs of customers in a variety of industries/countries building good alliances with business partners.
---
Our Values
Provide products of international quality.
Adhere to the principle of conducting business with honesty, integrity, transparency and accountability.
Build good relationships with customers, suppliers and business partners.
Promote innovation and adapt our technology at all times.
Trust in the value of leadership and teamwork.
Create a learning organization and focus on continuous development of human potential.
Develop the organization to grow sustainably with good governance and return profits to society.
Our Ethics
The World Flex believes in leadership through excellence. We strive to achieve excellence through a culture of innovation and continuous improvement. As an organization, we believe in well thought-out consistent growth and a consciously conservative approach. We are committed to investing in the business with initiatives directed at long-term sustainability.
Our biggest asset is our Employees. We have a culture of empowerment that values and respects individual potential and helps each one achieve it to the fullest.
Word Flex is consciously willing to fulfill our social responsibilities and invest in keeping our environment clean. We also participate in nearby social activities and donations and we are proud to be a valuable member of our community.
---
About Us
Established in 1993, World Flex Public Company Limited is the manufacturer and exporter of Natural Latex Round Rubber Threads. World Flex is now a listed company in the stock exchange of Thailand under the name of "WFX".
---
WorldFlex has been a leading producer of high-quality rubber thread for more than 2 decades. We have been striving to deliver our customers high quality product with reasonable price. As a manufacture, we have good understanding in customer's requirements of our rubber thread. Beside product quality and reasonable price, worldflex always emphasizes on punctual delivery, product consistency and customer services.
Without good raw materials, especially concentrated latex and chemicals, it hardly produces good products with consistency quality. Our product is made from 100% natural latex with no synthetic rubber at all. Worldflex is located in Rayong Province, an important rubber plantation area in the east of Thailand, where rubber plantation is plenty. Fresh high quality latex is directly sent to our parent company's facility to convert into concentrated latex and end up in worldflex factory. All raw latex is strictly examined before go through the production process.
---
Our Highly experienced and well trained staffs specialize in the production of rubber thread are the key in controlling the quality of the finished product. The company also has continuously developed its manufacturing system and its equipment utilized in the factory in order to ensure maximum precision.
Implementation of computerized system helps us control and monitor all the manufacturing processes 24 hours a day. Any minor defected part will be separated to make sure all products delivered to our valued customers meet the global standard.
---
Presently, the company has annual production capacity of 30,000 tons. Our products include rubber threads coated with talcum and rubber threads coated with polymer. We usually ship out our product as quickly as possible. Our large capacity helps us produce many different types, sizes, and colors in a short time. World Flex with its factory located in the province of Rayong , a short distance from the Deep Sea Laem Chabang Port and the Eastern Seaboard Industrial Estate, makes us be able to deliver our product promptly at a minimum cost.
Customer satisfaction is the most important principle we always value. The industry and economy is always changing, wolrdflex aims to adjust ourselves to serve our customers better and more effectively. We always consider our customers the most special partners who ultimately support us. Customer feedback will be responded promptly and our marketing teams are ready to serve our customers worldwide.